Creating value in property since 1895
We are a privately-owned property development and investment company based in Theale, Berkshire. For more than a century, we have earned a reputation for our considerate approach to building and development.
The T A Fisher Group has created a successful, proven strategy in the world of property development and investment across the Thames Valley, North Hampshire, and South-East England. Our collaborative approach has enabled us to develop a deep understanding of the importance of investing in the local economy. It has helped us to play a wider role by engaging local professional consultants and local trades, sourcing from local suppliers and selling to local buyers.
We combine our community-based approach with a strong equity base, a commitment to quality, sound business ethics, and an unsurpassed track record for completing even the most complex projects.
The breadth of knowledge within our team adds real value to our proposition and we are one of the few specialists able to cover residential, commercial, mixed use, regeneration, property investment and serviced apartments and aparthotels.
WHY T A FISHER?
Over the last 125 years we have developed a unique approach to property development that combines modern thinking with traditional values to create innovative solutions. We are proud to call this "The T A Fisher Difference".
Our history as a family business started in 1895 while our track record in house building stretches back to the 1960s. The vast experience and expertise that our team has gained across the decades is continually applied to the projects we work on.
There is no doubt that our future developments will be positively influenced by everything our team has learnt from past and present projects. While some things will change, two of our guiding principles will remain constant: our commitment to build quality and high standards.
Much of the building industry has sadly moved into a world where products are mass produced in a way that often results in lower quality developments. T A Fisher has continuously bucked this trend by buying local, high quality materials and engaging local, highly professional tradespeople. The end results are well received by our customers, their communities, and our business partners. It is a stance that is non-negotiable for us – build quality is one of our key goals.
Our core values have been forged by the projects we've been involved with and shaped by the progressive relationships we have established over many years. Our entire ethos relies on identifying opportunities where T A Fisher can genuinely make a difference, either by improving the quality of the built environment or adding value in other constructive ways.
We take tremendous pride from reflecting on every development, learning from each to constantly improve what we do and maintain our unrivalled market knowledge. This also helps us to generate business opportunities for locally based companies and, most important of all, create environments where local communities can participate in, and benefit from, our projects.
We have never seen our role as simply building bricks and mortar. Whilst that is incredibly important, especially doing things to a good standard we are equally as concerned about the legacy and ensuring that whatever we are involved in does add value and contribute to the ongoing success of that area or community.
And because of this, T A Fisher engenders confidence and peace of mind for our customers and business partners. This is hugely important to us and is reflected in the testimonials we receive from them.
"Our long-established company has shown a remarkable ability to adapt to new circumstances so that it stands today as a modern, progressive property business.
I am proud to continue our family's distinctive personal approach to development and investment. We look forward to forging new business relationships and re-affirming ones which now go back many years."
John H Fisher, Group Managing Director
A CENTURY OF EXPERIENCE, YOU CAN COUNT ON
Our history as a family business dates back to 1895, while our track record in building has stood the test of time for almost a century. All the experience and expertise we've gained during that time is applied to every one of our projects, from new build residential properties and land regeneration, to commercial developments and investments, alongside our serviced apartments and aparthotel business.
1895 – 1944
Founded by: Thomas Alfred Fisher
The original signwriting and gilding business was founded in 1895 and based in Reading.
1945 – 1959
Victor Fisher – Property Maintenance
The company later moved into renovations and maintenance specialising in houses that were occupied by workers yet owned by large local firms such as Huntley & Palmer and Huntley Bourne & Stevens.
1960
Keith Fisher – Pathfinding in the field of oil fired central heating
Under the stewardship of Keith Fisher the company expanded into the specialist area of installing and maintaining oil fixed central heating which was becoming popular and seen as the future.
1965
New House building commences
The company begun the journey into private housebuilding. Early projects included sites in Southcote Road Reading, Manor Road Wokingham, Nashgrove Road Wokingham and Oakley Basingstoke plus high end apartments in Highgate, Esher.
1967
Housebuilding on South Coast
Housing projects in Bridport, Dorset were acquired and developed.
1984
John Fisher joins – the fourth generation
With its long history, the company is fortunate in having an excellent platform to propel the business forward. The core focus will always be on maintaining our excellent reputation as a local housebuilder yet with an eye to wider commercial opportunities in the broader property sector.
1986
Commercial Development
The Group's foray into Commercial Development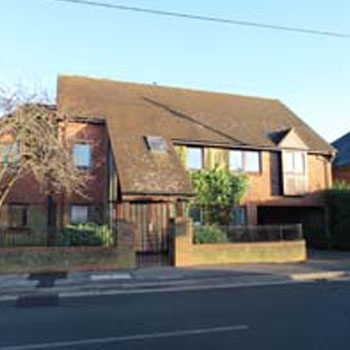 1987
Relocation
In early 1987 T A Fisher relocated to Mortimer near Reading
1990
Commercial Investment
In early 1990 TAF introduced property investment into it's portfolio
1997
Serviced Apartments
House of Fisher serviced apartments founded
1999 – Present
Numerous projects
Numerous residential, commercial and mixed use developments
2000
Dellwood Park
T A Fisher completed a prestigious residential development in Caversham featuring Reading's first £1 million property
2002
Opening of City Wall House, Reading
An apart-hotel
2007
Purley Magna, near Pangbourne
A high-end restoration and conversion of a Grade II listed building together with a redevelopment of artisan cottages in grounds of approximately seven acres
2015
Relocation to Theale
In early 2015 TAF/HOF relocate to the present offices located in Theale, Berkshire
2019/20
Numerous projects
Continuation of high quality projects in the Thames Valley
T A Fisher Group
What we do